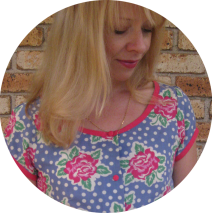 I am a 42 year old wife and mother of two daughters.   I am the daughter of a naturopath and grew up in the Australian countryside with a mother and grandmother who cooked, baked, made yoghurt, jam and preserves.  This early life has really stood me in good stead for what happens next, and has definitely influenced my cooking preferences.
I started on this grain-free journey almost a decade ago now when my lovely husband became extremely sick.  He was eventually diagnosed with Crohn's Disease.  In dealing with his illness (choosing to avoid drugs and surgery, the only options given us by mainstream medicine at the time) we attempted a raw food diet, fasting, and other dietary modifications, all of which helped to a degree.  It wasn't until we learned of the link between grain lectins and autoimmune diseases that things really turned around.  I spent 3 months teaching myself how to be a grain free cook and we haven't looked back since them.  My husband's life threatening crohn's disease has been in so-called "remission" for several years now, although he does experience occassional problems due to severe intestinal scarring, and more serious problems if he eats grains more often than once or twice a year.   But he has never needed surgery.  Never needed drugs.
I have been cooking grain free for a long time and through necessity have got rather good at it!  It is so true: neccessity is the mother of invention.
Our version of grain free is: grain free, dairy free, sometimes sugar free (not always).  For my children, I also need to adopt a FAILSAFE approach, which means very limited almond meal and coconut, the mainstays of many a grain free cook.  I do not follow any particular philosophy, but learn and use what I can from most of the grain free approaches I am aware of: paleo, primal, caveman, GAPS and SCD among others.
The majority of these recipes are from my own personal experiments in the kitchen, occasionally I post a recipe from another source or contributed by a reader.
I have spent many years researching and learning about grain-free living and food intolerances in general and I am pleased to be able to pass that knowledge on to others.  This website is a little like my home: its personal and reflects my own personal journey of being grain free.
Please do remember that I am not a practitioner or healthcare provider and legally it is not appropriate for me to advise you on your personal health issues – you need to speak to a qualified healthcare practitioner.  Primaldocs.com is a good place to find a healthcare practitioner near you who understands and endorses a grain-free diet.
If you are new to grain free eating and feeling overwhelmed as to where to start, all my posts relevant to starting out are here.  If you would like to read about my own personal experience of going grain free it is here.
Thank you for visiting.